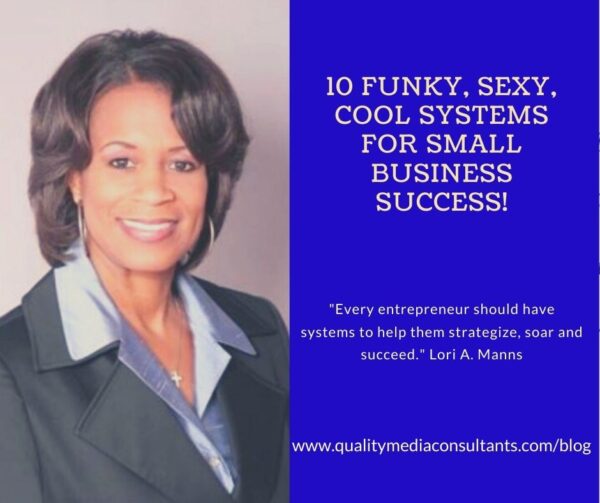 O.K. You're probably wondering: "what's up with the title?"   One thing for sure is that systems are boring. I don't know about you, but as a business owner, I am up to my eyeballs in daily tasks and To-Do lists! That said, if I think of my systems as funky, sexy and cool, I just might feel more inspired to do them. If you're like me, as an entrepreneur, 'solo-preneur' or small business owner, the buck stops with you. Sometimes the responsibility can be overwhelming, even a drag. However, on the flip side, there are times where you just feel good.  You feel excited and energized, ideas are flowing and everything is fantastic! You have a skip to your step, a smile for everyone you meet and your confidence is at an all time high! In 3 words, you feel… funky, sexy and cool! Your mojo is working big time.
Whenever you feel like things are rolling along just fine, that's where  systems come in. Having systems  to support your daily activities  and responsibilities will make things flow effortlessly.  It feels kinda funky, a little sexy and so cool! You feel confident, things are flowing, you have more time and plenty of energy. What's more, you aren't pulled down by details because you have #funkysexycool systems in place.
Here are 10 of my tips for Funky Sexy Cool Systems for More Success in Your Business!
Easy Payment Options! There are so many payment options for small business owners.  A few payment options are LightSpeed, MoonClerk, Square POS, Clover POS, and PayPal. MoonClerk is a great payment gateway with flexible monthly fees and custom monthly fees for various revenue levels.  PayPal – Love it or hate it, PayPal is great for small business owners. This system has a reputation for charging fees upon fees and being difficult sometimes but I've seen them continue to grow and get better.  PayPal allow you to pay a vendor by credit card whether you need fast documentation or because you want to manage your cash flow.  PayPal is the fast, quick and easy solution. Lord knows relying on small business owners to get an envelope, a stamp, write a check and go to the mailbox, is a lot to ask in this era of technology!
Flexible Shopping Carts –  Whether you sell physical products or electronic products, you need a reliable shopping cart. There are many shopping carts to choose. Some of the major shopping carts are:  Shopify, Magento, OpenCart,Big Cartel, and  1 Shopping Cart. One of the shopping carts that has been around for a long time is 1 Shopping Cart, on this platform, you can take orders online….which increases the easy flow of products, services and money.  You can manage your subscribes and "un-subscribes" on autopilot.  You can set up automatic email reminders called auto-responders for webcast reminders, follow up on calls, announcements, etc…you write them, schedule them. That's it.
Remember Important Birthdays! Birthday Alarm –  This is an easy way to remember my clients, colleagues and friends birthdays.  You can load them into the Birthday Alarm system and set reminders.  They will email you several days ahead of time…to alert you that a birthday is coming. You get to schedule the reminder timeline yourself. You don't have to be afraid that you missed a special occasion to celebrate! Your clients and friends will be impressed that you remembered their birthday.
Save Time: Pay Your Bills Online – What did we ever do before this? Whether you pay via your creditor's website or your bank….this is definitely a time saver.  Check your bank and see if they offer  "bill pay" as an option. Take the headache out of  paying bills and turn it into a stress free task, because it's so easy to do it on-line!
Invest for  Retirement!  I love Fidelity Investments.  This is strictly an investment house for rolling over 401K accounts and housing other investment alternatives. You can manage and monitor your account online just like a banking service.  This helps you to save and put money aside for retirement. Of course it will take a nice little nest egg for life on the beach once you're ready to slow down a bit.  But you'll be glad you did!
Customize your Email Signature – It's easy to customize and set up your signature in your email. This is a very simple thing to do yet some people overlook it.  Set it up once to save you time. You will appear more professional. On your professional email, list your phone number and website, and even a short announcement about a new product or program.  It's frustrating to receive an email from someone with just a name as their signature and no other information.
Hire An Office Assistant! Virtual assistants are a perfect way to delegate for a small business owner.  Stop trying to do everything yourself. It's impossible to be all things to your business. I have found professional and talented people who are capable of effortlessly doing things that I don't know how to do very well or don't have time to do. Hiring someone to do billing, presentations, web design or list management will definitely free up time for you.  I would recommend either  UpWork or Assist U, for finding qualified assistants.  With both services you can input your criteria to find the contractor for the job you wish to outsource. What a great resource for entrepreneurs, solo-entrepreneur types! Don't struggle alone!  Be smart, optimize your time and get help.
Put your E-Zine or E-Newsletter on Autopilot – Once you have established what works best for your list, you will want to automate and schedule your emails especially if you are sending them once a week. There are many services such as Constant Contact, Mail Chimp and Mad Mimi that allow you to schedule your emails in advance.
Organize & Energize Your Marketing –  It's time you give your marketing the oomph it needs to get out there in a bigger way. Your marketing plan doesn't have to be a dissertation. I suggest a one or two page document succinctly describing your strategies for growth, financials, forecasting, etc. Stop jotting things down on napkins and sticky notes. Keep a journal of ideas and opportunities as they present themselves. Change your plan when necessary. Write a list of all the ways you can get more publicity for your business short term and long term. Hopefully this will motivate, inspire and energize you to take action….putting the law of attraction in full effect.
Write gratitude cards on a daily or weekly basis. It's no secret that sometimes as entrepreneurs we get bogged down in the daily tasks and responsibility of running a business that it's easy to forget the great things that have occurred. Take time to be grateful for all that's good, awesome and progressive in your life and your business. This simple practice will help you get through those days when things aren't so great.  An attitude of gratitude will help you to attract more positive energy into your business.
© 2012 Quality Media Consultant Group, LLC – All Rights Reserved 
*Updated December 2020
This article is written by Lori A. Manns. Want to use this article for your website, blog or ezine? No problem. Here's what you must include: Lori A. Manns, CEO of Quality Media Consultant Group and founder of Sponsorship Sales SecretsTM that shows you how to get more sponsors and sales for your business, guaranteed. To receive her marketing, advertising, sales articles, on how to increase your revenue and grow your business; please visit www.qualitymediaconsultants.com.