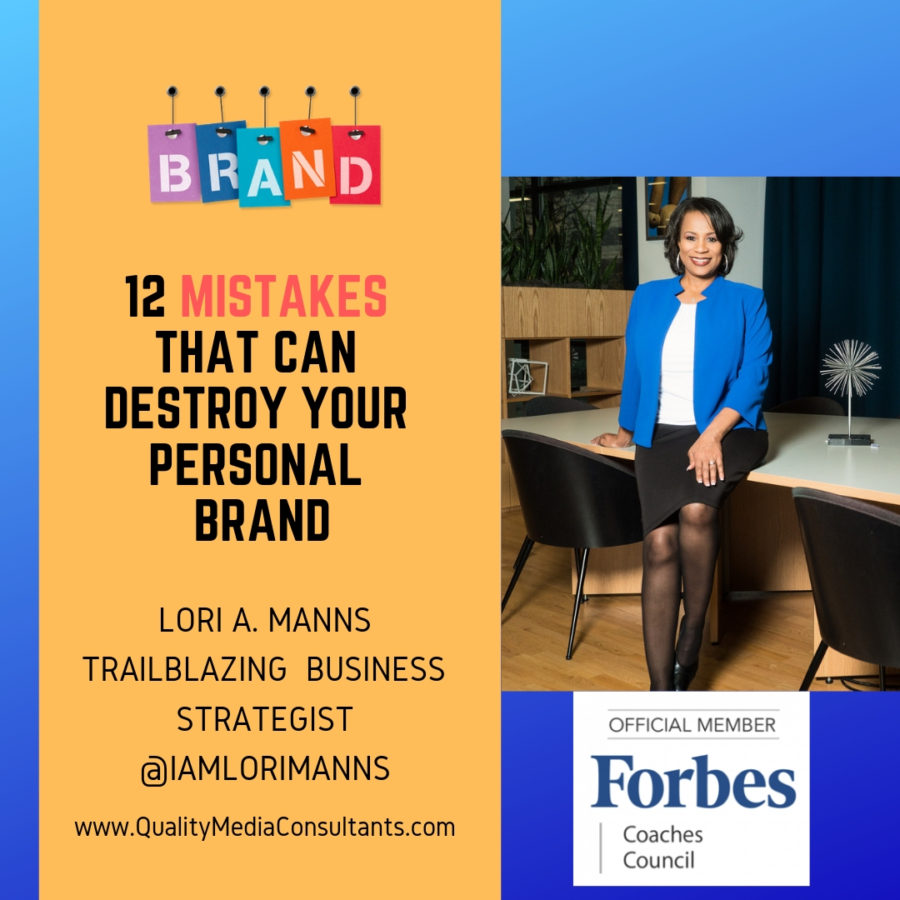 Developing a strong and distinct personal brand is important today, both for businesses and individuals. When it comes to companies, consumers like to feel as though they know the individuals behind the brands they're interacting with. For professionals, a strong personal brand can establish expertise and even help you get your next position.
The challenge of personal branding is that one wrong step can damage the reputation you've worked so hard to build. If you want to positively represent your company or yourself, avoid these mistakes outlined by members of Forbes Coaches Council.
1. Skipping Foundational Brand Work
Many people want to start with creating content or fancy public relations work before sitting down and doing some profound preparation. That is a huge mistake. Every great personal branding strategy starts with a self-inventory and questions like: What am I the expert in? What is my unique value proposition? What do I have to offer? What is important to me? What is my core motivation? What do I stand for? – Dr. Natalia Wiechowski
2. Alienating Customers With Controversial Subject Matter
I was raised to believe that it isn't polite to discuss sex, politics or religion in mixed company, because these subjects tend to create division or outrage instead of bringing people together. The same could go for your brand. Unless it's engaged in specific activism, think twice about the subjects you bring to your audience, as you might alienate customers over mere opinion. – Justin Giddings
3. Ignoring Your Personal Story
The biggest thing that can cause a personal brand to be unsuccessful is not being personal. People want to know who you are as a person. If your content could be copied and pasted by anyone else and no one would really notice, that's a sign you are not building a strong personal brand. Be sure to add bits of your story and personality to all content. You'll make more sales, too! – Taylor Manning
4. Confusing Customers About Who You Are
People and organizations often think they can be all things to all people. It's more important to consistently offer or be one or two things to the many. If you represent your brand as one thing today and another tomorrow, you will confuse your potential customers. Their confusion makes them seek out a more clear brand with more consistent offerings. – Heather R. Younger, J.D.
5. Failing To Understand Your Personal Values
Your behavior reflects your personal values. When you don't understand your values sufficiently or separate your business life from yourself, you are bound to run into conflicts eventually. A personal brand depends on authenticity and consistency. When you act differently from your stated personal or corporate values, that's when brand damage occurs. – Larry Boyer
6. Only Sharing Other People's Content
When establishing your personal brand, it is imperative that you create your own content. To be seen as an industry expert, you must establish your voice in the industry. A major mistake that can disrupt the successful creation of a personal brand is solely sharing the content of others. You are not highlighting your expertise by doing this. – Dr. Sharon H. Porter 
7. Forgetting That Everything On Social Media Is Public
We see it time and time again: People post hateful, racist and misogynist things and bully others on social media, and they lose their jobs as a result. Social media is not private—ever. Assume that if it's on the internet, it is public and lives forever. Be conscious and careful about what you post and how you represent yourself online. That is your brand, like it or not. – Debra Russell
8. Deviating From Your Core Purpose
The biggest mistake made across the board is to pivot away from your true purpose, mission and self. Be consistent to your core. Know to whom you bring value and why; a business or career will suffer damage if you morph instead into what you think the market wants to hear. It destroys trust and credibility, two pillars of relationships—and relationships are the foundation of all business. – Lisa K McDonald, 
9. Not Identifying Or Sticking To Your Brand Promise
Your brand promise is vital in building a strong brand for your business or yourself. The brand promise is the value or experience that your customers can consistently expect when engaging with you or your company. People like to know what they can expect when doing business with you. Not identifying a brand promise and sticking to it is definitely a way to damage the success of your brand. – Lori A. Manns, Quality Media Consultant Group LLC
10. Publicly Venting
All data online pertaining to you, your professional life and your approach will be scrutinized by employers. If you're applying for jobs but posting negative details of your job search online for the world to see (via Facebook, Instagram, LinkedIn or other social media), your brand will become tainted and your message distorted. Resist the urge to vent publicly; take your frustration offline. – Laura Smith-Proulx
11. Lack Of Consistency In Your Brand Voice
One of the main pillars of branding is consistency, both in tone and subject matter. It is also one of the rather common issues that hinder or damage a brand. Insistence on diverting from a steady voice is inherently contrary to consistency, which in turn can create confusion as well as illustrate a lack of planning. Hence, consistency should be part of long-term planning for any entity. – Kamyar Shah
12. Only Focusing On You Instead Of Your Customers
Communicating your brand from the primary platform of "me" instead of "you" is a great way to turn off prospective clients. Most businesses and individuals lead their branding with "Let me tell you about me/us," when "Let me tell you about you" would be far more effective and impactful. It's not about you. – Ashley Good
This article originally appeared on the Forbes Coaches Council website. CLICK here to see the original post.