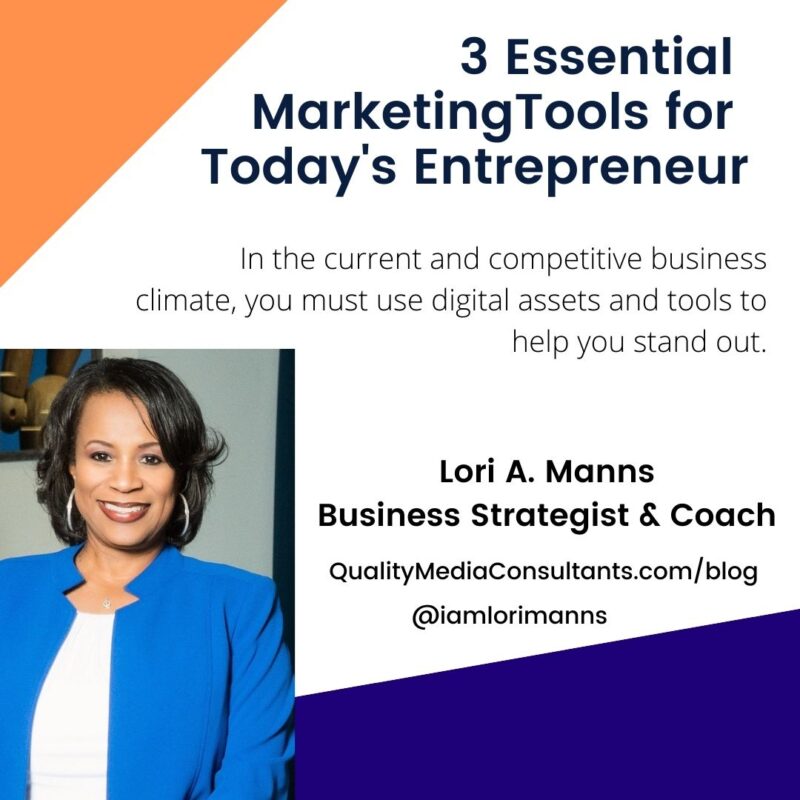 In a crowded marketplace, the one thing that can help any entrepreneur stand out is a killer marketing plan. I believe that marketing is the practice of providing valuable tools and resources to people in your target audience who are seeking whatever you are selling. Once your ideal prospects find you, your messaging should give them compelling reasons to buy. However, for most entrepreneurs, the challenge lies in getting found, seen and heard by the right people. With that said, let's discuss a few marketing tools that can help you, the savvy entrepreneur, get noticed so you can win.
MARKETING TOOL #1 – VIDEO
Video marketing is not a trend or a fad, it has quickly become the norm in terms of the best marketing tools and tactics. The fact is, you probably can't say much about video that hasn't already been said if you're trying to convince someone to use it. Video is arguably the best way to get your brand and marketing messages across. These days more people prefer to watch a video than read an article. However, I believe that whenever possible, you should combine a blog post or article with a video. That's why in this article, I'm doing both.
If you're one of those entrepreneurs who is kicking and screaming whenever someone says you should do a video, it's time you faced the facts and the stats. Here's the thing about video, chances are, your competitors are using it. So if you're not, you're getting left behind.
Here are some of the latest statistics about video content.
According to Biteable.com, 81% of businesses use video as a marketing tool and 6 out of 10 people would rather watch online videos than television.
According to Statista, 85% of all Internet users in the USA watch online video content monthly their mobile devices.
According to Hubspot, 54% of consumers say they would prefer to see more video in marketing message.
So what should you do to make sure your videos stand out? Here's my top 5 best tips about video marketing.
Be Authentic – Just be yourself. Nobody can be a better you than you. Be 100% real in every video. Your authenticity will attract the people who you're meant to serve.
Go for progress not perfection – In the beginning, you'll feel intimidated by people with fancy, edited videos with perfect graphics and thumbnails. Don't let that stop you. You can start with your smartphone. Focus more on your message at first. You can learn fancy editing later or hire someone to do it for you.
Make sure you are looking at the camera lens. Have you ever watched a video and the person recording it was not looking into the camera? It's annoying. Don't do that. If you're going to record a video using any device, make sure you are looking directly into the camera lens. When you look into the camera, the viewer feels as if you are speaking to them.
Check your sound, acoustics and lighting. Do a test run to see how you sound and make sure there are no echos in the room. Also, shoot in well lit areas. No one likes a dark and dingy video. Check your lighting to make sure people can see you or the subject of the video.
Keep it steady. Invest in a tripod to hold the camera steady. Don't take the viewer on a bumpy ride. No one likes to see the camera shaky or moving up and down unless it is intentional. If you're outside outside filming a dirt bike or something that's ok but if you're not, make sure the camera is steady.
MARKETING TOOL #2 – SOCIAL MEDIA
In the new millennium, social media is here to stay. Having a presence for your brand, yourself and your company on social media is necessary these days. If your business isn't present on at least one social media platform nowadays, people look at you in shock. The sheer volume of people on the top 5 platforms, should give you an indication why you and your business should be there too.
Here are the latest numbers according to Statista:
Facebook – 2.7 billion monthly active users
Pinterest – 442 million monthly active users
Twitter – 330 million monthly active users
Instagram – 112.5 million monthly active users
LinkedIn – 772 million members (675 million monthly active users according to Hootsuite)
So what should you do to make sure you stand out on social media? Here are my top 4 best social media tips
Create a social media marketing plan. List out your goals. What do you want your social media to do for you and why? Once you uncover your goals based on your biggest needs, only then can you devise a plan to utilize social media to help you get there.
Create original content. They say content is king for a reason. When you create content that is shareable, you get eyeballs on your brand and business. Additionally, original content showcases your expertise.
Pick two platforms to dominate on. You could be on every platform but why? The most important thing is to be on the social media platforms where your ideal prospects and clients are. You can't be everywhere on social media and do it well, unless you can afford to hire a social media marketing agency. It's nearly impossible to be on every social media platform and do it well if you're a small fry. However, you can dominate on a few platforms if you have a great strategy.
Be consistent. The worst thing you can do is post on your social media pages once in a blue moon and then expect people to engage or interact with you. It's like the long lost friend who only calls once every six months or even every couple of years….either way, you're fine if you hear from them and fine if you don't.
MARKETING TOOL #3 – WEBSITE
Your website is your online real estate. What does that mean? Well, your website is your "marketing house." If you're a homeowner, your house is probably the largest investment you've ever made. Anything that is important to us is something that we value and must take care of. It's the same with your "digital house" aka your website. It's the #1 place where people will go to check you or your company out, so make it count.
So what should you do to make sure your website is in order? Here are my 7 best website tips.
1. Pick a good domain name. Make sure it corresponds to the name of your business. Don't make it hard to understand. Don't use misspelled words. Keep it simple.
2. Own your own hosting account, if possible. It's best to own your very own, online real estate. It's the difference between owning and renting. It's best to have total control of your content. Controlling your website content means you own your hosting account.
3. Add Google Analytics to your site. It's the best way to measure your insights and analytics so you can see who is visiting your website and when and what pages are working best. Without data, what's the point?
4. Have a lead capture component. Give people a reason to leave their email address so you can follow up with them. It's called a "freemium" that gives value to your prospects just for stopping by your site. It's like if you had a storefront, you'd want to give people a reason to stop in, right?
5. Have a blog. Showcase your expertise. Plus you can share valuable content to educate your readers. Maybe they will stick around longer and buy something.
6. Have digital products for sale. Why not make some money from your website while you're at it? It is called getting paid in your sleep. Cha-ching!!
7. Update your website regularly. Fix broken links and make sure all your buttons work. Check your navigation panel on a regular basis. Make sure your website loads properly and all URL links are working.
If you need help with your digital footprint, please contact me. My team and I can help you get on the right track. After all, your website is critical to your company's brand and online footprint.
Would you like to learn how I help people like you to master and monetize their marketing? Contact me or sign up for my course. Here is more information on your options. I'd love to hear from you.
Option 1. DIY it!
If you like to learn at your own pace, you can sign up for my new marketing course called Strategic Marketing Process, recently launched at The Sales & Marketing Academy.
Watch the VIDEO.
Option 2. Chat with me!
Maybe you prefer the VIP treatment? If you would like to speak to me to determine your next best move, you can schedule a complimentary, 15 minute discovery call. Click here.
This article was written by Lori A. Manns, President of Quality Media Consultant Group. Want to use this article for your blog or business website? Here's the author's box that you must include.
© 2020 Quality Media Consultant Group LLC – All Rights Reserved
This article was written by Lori A. Manns. President of Quality Media Consultant Group.  Lori is a multi award-winning marketing mentor, sales coach and trailblazing business strategist who works with small business owners and entrepreneurs to help them grow and scale their businesses. She specializes in sales and marketing strategies that result in her clients attracting their target market, gaining brand visibility and growing revenue. Lori is President of Quality Media Consultant Group, a consultancy firm specializing in media, advertising, marketing and sales. She is the  founder of the Trailblazer Business Academy. where advancing entrepreneurs go to learn growth strategies and how to run a profitable business the soulful way. Lori is also the creator of the Sponsorship Sales Secrets System;™ which shows business owners how to get more corporate sponsors and sales for their business, guaranteed. To learn more about the work Lori does to help business owners and entrepreneurs all across the U.S. to accelerate their revenue and succeed in business, visit www.qualitymediaconsultants.com