LEADS. LEADS. LEADS.
We all need them. No one can survive in business without getting a steady flow of new leads. New leads, if handled properly, equals new money — which goes straight to your bottomline revenue.
We all know, there's only two ways to make money in your small business.
Sell more stuff to people you already sold to.
Sell new stuff to new people.
The question is…how do you get good, qualified leads for your business on a consistent basis? Because the goal is to ALWAYS sell more stuff.
What is a lead? A lead is a person who is a prime candidate for becoming a paying client or customer for your business. According to Hubspot, A lead is a person who has indicated interest in your company's product or service in some way, shape, or form. I like their definition too.
Well before we talk about how to get new leads, let's talk about why you are NOT getting good leads now, or not enough leads to meet your revenue goals.
Typically when a small business doesn't have a steady flow of leads, there is a missing link in the lead generation system as well as a flawed marketing strategy.
I'd like to submit to you that there are primarily 3 reasons why you are not getting leads and offer you a few tips as to how you can remedy the situation.
REASON #1
LACK OF CONSISTENCY.
Inconsistency can be a problem in one or more areas. The number one area where inconsistency will hurt you is in your marketing. You are probably not getting leads because your marketing strategy is random. A random marketing effort will produce random results. This means you are not executing and implementing effective marketing strategies on a consistent basis. Therefore, you get leads occasionally if at all. Additionally, your marketing plan is probably outdated and needs a complete overhaul.
Another area where inconsistency can hurt you is in your messaging. If you are not putting out consistent messages that resonate with your target market and ideal clients, chances are…you are not getting any leads or, the leads you do get, are not qualified.
What can you do instead?
Make a vow to start today with a consistent plan of action. Designate time to revenue generating activities. Don't let another day, week or month pass that you are not on top of your marketing efforts. Remember, once you get into the habit of marketing your brand and business, it will become second nature. It takes 21 days to form a habit. That said, pick a marketing strategy and practice it for 21 days until you or your team gets good at it.
REASON #2
LACK OF CREDIBILITY
If you are not well known in your industry or niche, you are probably feeling like the best kept secret. You are undoubtedly confused as to why people are not blowing up your phone lines! After all, don't they know how great you are? In short, no. They don't. The truth is, they don't know you at all. They don't like you yet…and they don't trust you either. Until you build some credibility with your target audience, you can bet they will not be beating down your doors to buy from you.
What can you do instead?
For starters, you can show up. Show up where? Glad you asked. You can show up online and offline, in the very same places that your target market already frequents. Think of the websites, blogs, social media sites and other online places where you think your target audience might be. Once you figure out where your tribe is online, you must implement a plan to be there too.
Here's the catch, you can't just show up online and think that's enough. It's a great start. But there is nothing that can replace showing up in person. Why do you think politicians and musicians go on tour? Why do you think sports teams play games away just as much as they play on the road. The reason is simple. You must get out there in the world and expose your brand and your business to new people, places and things. Where are the places offline that you need to be? Simply, show up.
REASON #3
LACK OF CONTENT
As the saying goes, "content is king" and people say this in the business world for a reason. The main reason is because, content helps to educate your prospects and ideal clients on what you can offer them and why they should do business with you. If you are not creating content that educates, informs, enlightens, entertains and empowers your target market, you my friend, are missing the boat. It's time for you to get on board and join the tribe of online marketers of the 21st century who understand that creating content is a part of doing business.
What can you do instead?
Create a content calendar that is full of all of the answer to questions you get asked all the time. Tackle one subject per month until you have properly shed some light on topics your target audience cares about. Not only will you be presenting yourself and your business as an authority, you will be perceived as a thought leader and eventually perhaps even an influencer.
There you have it. I've share 3 of the top reasons why you don't have leads and what you can do to fix it. Don't waste any time. Get out there and ramp up your marketing activity so you can get some leads and sell more stuff.
Go ahead, weigh in with your "two cents", via the comments below. How do you get leads? I'd love to hear from you.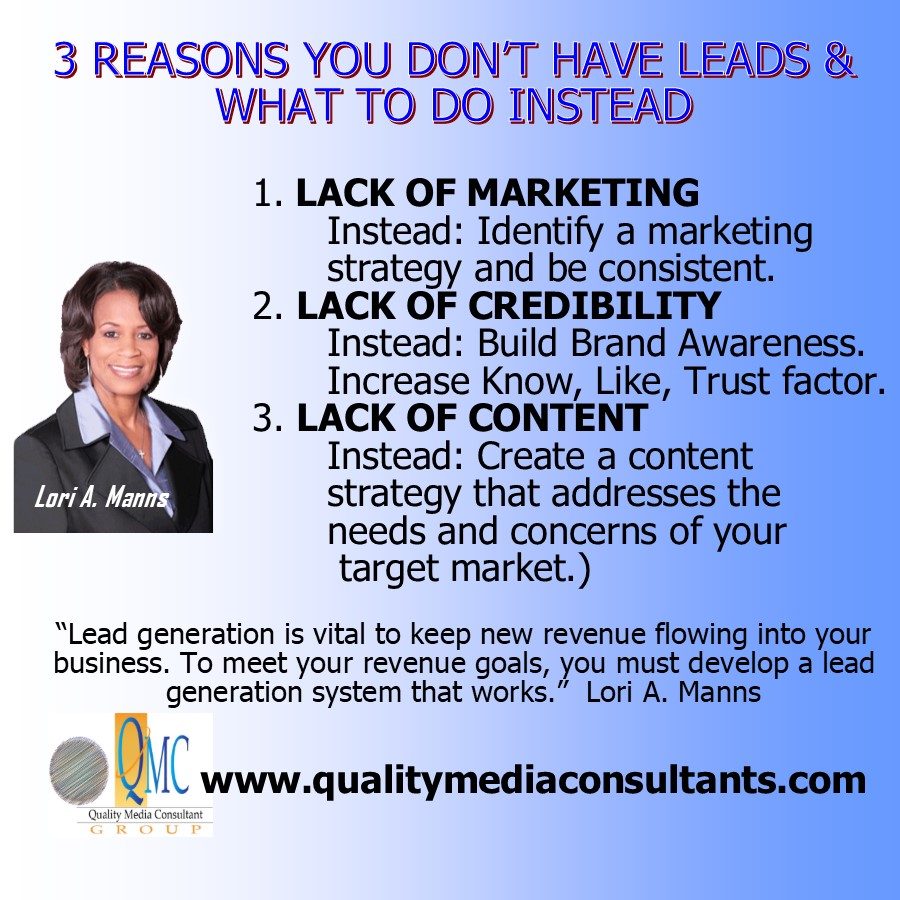 © 2019 All rights reserved – Quality Media Consultant Group
This article was written by Lori A. Manns.
Author, Lori A. Manns is a multi award-winning marketing mentor, sales coach and trailblazing business strategist who works with small business owners and entrepreneurs to help them grow and scale their businesses. She specializes in sales and marketing strategies that result in her clients attracting their target market, gaining brand visibility and growing revenue. Lori is President of Quality Media Consultant Group, a consultancy firm specializing in media, advertising, marketing and sales. She is the  founder of the Trailblazer Business Academy. where advancing entrepreneurs go to learn growth strategies and how to run a profitable business the soulful way. Lori is also the creator of the Sponsorship Sales Secrets System;™ which shows business owners how to get more corporate sponsors and sales for their business, guaranteed. To learn more about the work Lori does to help business owners and entrepreneurs all across the U.S. to accelerate their revenue and succeed in business, visit www.qualitymediaconsultants.com