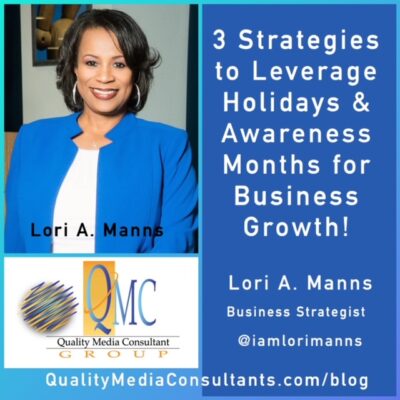 There is an abundance of national and international holidays, awareness days, and months designed to celebrate a variety of occasions and causes throughout the year. Each of these occasions offers small business owners a unique opportunity to promote and market their businesses. Not only that, leveraging holidays and awareness events may attract leads and new customers. The benefit of leveraging these milestone dates and months is plentiful including, lead generation,  increasing traffic, brand recognition, and of course community engagement.
So how do you leverage any of these milestone holidays to help you grow your business?
Below, I'm offering a few tips to help you leverage holidays and awareness days/months to your advantage as a small business owner.
1. Create a content calendar around Awareness Days, Weeks, or Months.
The best strategy is to get organized about your approach to each holiday or awareness day. Not all national awareness days, weeks, or months will be relevant to your business. That's why it's a good idea to research which ones provide synergy for your company from a marketing perspective.
Here are a few examples.
If you are in the mental health industry, you may share content on mental health awareness in May,  since it is recognized as National Mental Health Awareness month. If you are in the fitness industry,  a trainer might offer a 30-day fitness boot camp in May, as it's designated as National Physical Fitness and Sports Month.  For any given month, the opportunities and ideas to get creative with promotions are endless.
Plan your promotional content in advance.
Dates for national events are advertised well in advance allowing you to plan your content, posts, and special offers ahead of time. Creating a content calendar gives you the opportunity to organize your strategy, sales, and plans. Advance planning allows you to create a communication campaign or newsletter to alert your clients about special programs, product launches, and events.
Although there are months with multiple themes and designations, the most important thing to remember is to focus. Identify holidays and awareness events by month that coincide with your company's brand, mission, vision, and goals.
2. Create Original Branded Promotions on Holidays
Holidays offer business owners the opportunity to get creative about how they promote their products and services. Not only can you create annual events, sales, incentives, contests, and promotions in conjunction with holidays, but you can also create your own branded themes around any holiday as well.
Develop innovative brand concepts in conjunction with popular holidays.
Creating original promotions around holiday themes will provide you with increased brand awareness that could potentially result in your promotion trending online or going viral.  Particularly social media promotions may result in an increase in web traffic or foot traffic for brick and mortar storefronts.  The key is to be consistent with whatever original promotion you create. Allow your target audience enough time to become familiar with your promotional concept so they can anticipate and plan for it.  For example, a small business furniture retailer may host an annual Labor Day to close out unsold summer inventory. Conducting a sale of this nature allows the retailer to close out one season's inventory to prepare for new items for the holidays or new year.
Although there are months that have multiple themes and designations, the most important thing to remember is to focus on the holidays and awareness occasions that will coincide with your company's brand, mission, vision, and goals.
3. Leverage Technology for Marketing Insights
As you begin to use holidays and themed occasions to create momentum in your business, you will want to leverage technology to assist you in capturing what's trending and most popular online. It's very important to use data to help drive your promotional efforts so that any of your marketing and promotional efforts are not equal to throwing spaghetti against the wall and hoping something sticks.
Use Google to Define Your Campaign Goals and Learn about Your Customers.
Google offers a very effective tool, the Google Consumer Insights section which provides a lot of data on holidays and consumer behavior. You can check GCI to see what industry categories are gaining notice. Not only that, but you can also learn more about what's trending through the consumer trends section. For anyone still learning who your target audience is, Google helps you with that via the Find My Audience tool.  Google comes to the rescue for anyone unclear about their target audience because this tool allows you to segment your audience into categories. To take advantage of these data tools and insights, you simply need to have a Google account.
In summary, there are many ways that you can leverage National and International Holidays and occasions for business purposes to help you gain notoriety and attention online and offline. The main thing is to decide in advance what your goals and desired outcomes are so you can be effective in your approach and strategy.
Want to use this article for your blog or business website? Here's the author's box that you must include.
© 2022 Quality Media Consultant Group LLC – All Rights Reserved
This article is written by Lori A. Manns. President of Quality Media Consultant Group.  Lori is a multi-award-winning marketing mentor, sales coach, and trailblazing business strategist who works with small business owners and entrepreneurs to help them grow and scale their businesses. She specializes in sales and marketing strategies that result in her clients attracting their target market, gaining brand visibility, and growing revenue. Lori is President of Quality Media Consultant Group, a consultancy firm specializing in media, advertising, marketing, and sales. She is the founder of the Trailblazer Business Academy. where advancing entrepreneurs go to learn growth strategies and how to run a profitable business the soulful way. Lori is also the creator of the Sponsorship Sales Secrets.