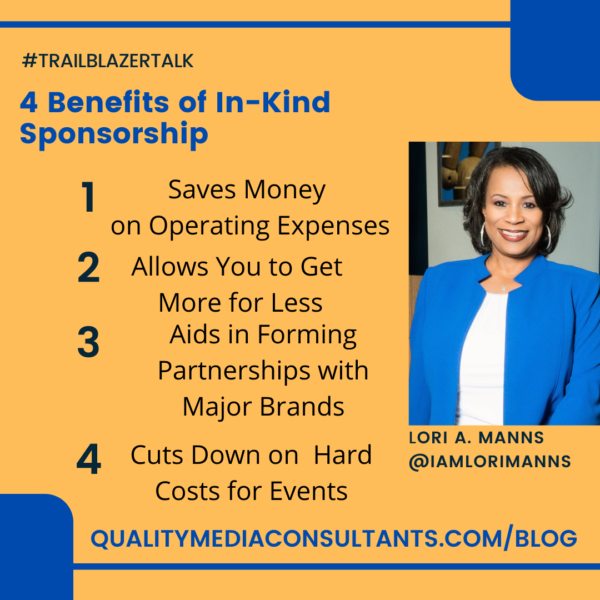 Securing in-kind sponsorship is a game-changer for any small business owner or entrepreneur wanting to focus on increasing profitability.  In-kind sponsorship is also referred to as "value-in-kind sponsorship" or by its acronym, "VIK".
In-kind sponsorships can add an incredible amount of value and improve your bottom line. These days, lots of companies and businesses would rather provide goods and services rather than release cash.  Additionally, it is important to note that sponsors can add products and services on top of a cash sponsorship as well.  Therefore, if you're interested in saving expenses, it is very practical to consider value-in-kind sponsorship opportunities as much as possible. Before we discuss the advantages of in-kind sponsorship, let's discuss the disadvantages.
There are drawbacks to in-kind sponsorship.
Although in-kind sponsorship has many benefits, there are some limitations to this type of sponsorship.
It can't be used to pay salaries or wages.
It can't be banked as profit.
It is not a donation. In-kind sponsorships and in-kind donations are not the same.
In most cases, it can't be used for sundry expenses.
Why do brands like providing in-kind sponsorship?
Exposure: It helps them to reach their target audience and virtually ensures warm leads.
Saves Money: It saves them the bottom line expense of providing a cash sponsorship.
Promotional Consideration: Major brands love to get their logos and images on collateral materials, especially in front of large audiences.
Media Attention: Major brands really like to offer to provide products and services if it means getting positive press.
Here are 4 benefits of in-kind sponsorship
1. Saves money for normal expenses incurred for projects and day-to-day items.
This savings is the boost that many small business owners need to stay in the black and not the red.
2. Allows you to get more for less. 
There are companies aka sponsors that can be very generous with products and services they are willing to release in lieu of cash. Therefore such companies do not place as many stipulations on those offerings as they do with cash sponsorships.
3. Aids in forming partnerships with Major Brands.
Many companies are difficult to approach when it comes to securing cash sponsorship. However, starting off with a value-in-kind sponsorship gets your foot in the door.  This approach allows you to find more aligned sponsors that have synergy with your brand or company. This synergy can spark a partnership without requiring a monetary investment. This makes identifying sponsors easier and engaging with them less threatening for them and for you.
4. It can help you cut hard costs on events. 
Producing events is very expensive. No matter what type of event it is, there will be hard costs associated with it. When it comes to organizing events, hard costs are not easily negotiated away. Additionally,  many times hard cost fees require up-front payments. An example of hard costs is venue rental fees, food and beverage, audio/visual, security, decorations, and more.
Your imagination is probably running wild right now thinking of all of the ways you can leverage in-kind sponsorship for your business. If you're an entrepreneur who hosts events, you can absolutely get in-kind sponsorship. Here are some examples. You can get in-kind sponsorship for door prizes including; hotel stays, meals, games, promotional items, books, and more.  If you're a speaker, you can get in-kind sponsorship for book inserts, airline tickets for flights, hotel stays, ground transportation, audio-visual, microphones, beverages, and more.
As you can imagine, the opportunity is endless for you as a small business owner to secure in-kind sponsorship for your brand. If you can't think of any physical items that you may need, fortunately, there are companies out there that will provide you with in-kind sponsorship in the form of volunteers for a specific project or event. This, in turn, will save you hundreds or thousands of dollars on staffing costs.
The opportunities are endless when it comes to value-in-kind sponsorship. If you'd like to learn more about how to get sponsors whether cash or in-kind, visit the website 
www.sponsorshipsalessecrets.com
Want to use this article for your blog or business website? Here's the author's box that you must include.
© 2022 Quality Media Consultant Group LLC – All Rights Reserved
This article was written by Lori A. Manns. President of Quality Media Consultant Group.  Lori is a multi-award-winning marketing mentor, sales coach, and trailblazing business strategist who works with small business owners and entrepreneurs to help them grow and scale their businesses. She specializes in sales and marketing strategies that result in her clients attracting their target market, gaining brand visibility, and growing revenue. Lori is President of Quality Media Consultant Group, a consultancy firm specializing in media, advertising, marketing, and sales. She is the founder of the Trailblazer Business Academy. where advancing entrepreneurs go to learn growth strategies and how to run a profitable business the soulful way. Lori is also the creator of the Sponsorship Sales Secrets.