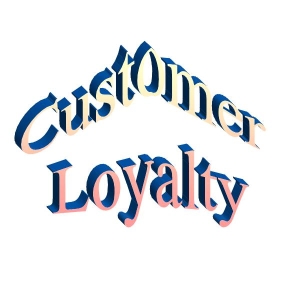 When was the last time you felt really loyal to a company? Can you recall a specific incident? Chances are you have one or two stories that stick out in your mind. Customer loyalty is a wonderful thing. These days it's becoming more difficult to predict customer loyalty with all of the growing number of businesses in any one particular industry. It doesn't matter what type of business you have, chances are, you're going to have hundreds or thousands of competitors in your city or state. That said, you and your company must do something to make your customers want to come back to you again and again. And of course the reason why you need your customers to come back over and over is because it's one of the best ways to grow your revenue. Let's look at a 4 easy ways you can ensure customer loyalty.
1. Make It Easy
When you make it easy for someone to do business with you, the likelihood that they will  continue to do so dramatically increases. What does "make it
easy" mean? My definitaion is to simply eliminate obstacles or objections. Whether it's your process regarding paying invoices or receiving a shipment. People do not like to be inconvenienced. When a customer doesn't have to go through major changes or lots of steps to get issues resolved, they are content. When a customer can express their concerns about a particular question or issue and get it handled quickly and professionally, they're happy. Using words such as: "can't", "won't" and "don't" typically make customers feel like you or your company is difficult to deal with. When you switch it around and begin to use words and phrases like: "help", "fix" or "take care of", people begin to view your company as willing to work with them.
2. Show Gratitude
Letting your customers know that you appreciate their business goes a long way. When people feel appreciated they tend to continue buying from you. However, if you make customers feel as if their business doesn't make a difference, they are more likely to leave and try one of your competitors.
A good way to show gratitude to your clients and customers is to send thank you emails or notes. It doesn't have to be a long letter to get their attention. Just sending a simple note of thanks can make a big impact. And of course, if your thank you note includes an incentive for them to repurchase with special savings attached, that's even better.
3. Meet a Need
When your brand promise indicates that your company will solve a specific problem for your customers, you must deliver. When you meet a need held by a specific group of people with an outcome that is desirable and reliable, you will establish a great reputation with those people. This of course builds brand loyalty and will serve you will in ensuring that your customers are loyalty. People like to buy from companies that meet their needs and offer great customer service. Sometimes, simply doing what you say you will do is all a customers needs and expects. Going the extra mile is just gravy. However, consistently meeting your customer needs in a satisfactory manner will far outweigh, anything else you can do to ensure customer loyalty.
4. Pay Attention to Feedback
Many companies have departments focused on customer retention. In these departments, they pay attention to customer feedback and use it to address issues around sales, marketing and product satisfaction among others. Paying attention to customer feedback will help you  understand if you need to address issues relating to a particular product orservice. In addition, customer feedback will give you insight on new products or services that your target market expects from you. When your customers feel as if you care about their opinions they will give them to you and even make suggestions about ways you can serve them better. Having customers that take on the role of advisor is helpful because what better way to understand how to serve your customers than to get the information straight from the source.
Now it's your turn. What actions have you taken to ensure customer loyalty with your customers? Please share your ideas with me. I
would love to hear from you.
Copyright © 2015 Quality Media Consultant Group LLC All Rights Reserved
Want to use this article for your website or blog? No problem. Here's what you must include:
Lori A. Manns is an award-winning, marketing, sales coach and business strategist who works with small business owners to help them elevate their brand, get more clients and grow revenue. Lori A. Manns is CEO of Quality Media Consultant Group and founder of the Trailblazer Business Academy™ where advancing entrepreneurs go to learn breakthrough business strategies for productivity and prosperity the soulful way. Lori is also the creator of Sponsorship Sales Secrets System; ™ that shows you how to get more sponsors and sales for your business, guaranteed. To purchase consulting services on marketing, advertising or sales and, learn how to increase your revenue and grow your business; please visit the small business solutions page on www.qualitymediaconsultants.com.