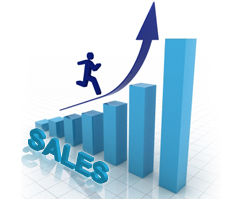 Let's face it, sales is here to stay. Your success in business depends upon your ability to sell your product or service. So with that said, it's high time you get an attitude adjustment about sales. "I hate selling!" or "I can't stand salespeople!" If I had one hundred bucks for every time I've heard those statements from entrepreneurs, I'd be rich. You see, the entrepreneurs who make such statements are usually the ones whose success depends upon their ability to sell their ideas, their company and their products. And that's a pity, because if you hate selling, you'll never be good at it, and that means you will lose business, leave money on the table and quite possibly lose your business all together.
In my experience, it's the entrepreneurs who really love selling who are the most successful. Sometimes these entrepreneurs are natural-born sellers or folks who have become allergic to the thought of working in corporate America for the rest of their lives.
Typically, when speaking to the head of a new company, you can tell if they will grow or fizzle out by the way the CEO or the President speaks about selling. If they think of selling as the life-line of the company and the soul of success, they will do well. If they think it's a chore, probably not.
If you hate selling, it's definitely in your best interest to get over it, and even better, switch your mindset to love the selling process. First, I would suggest the root of this "hatred" stems from negative beliefs about sales in general. In my experience, many people "hate selling" because they hold one or more of the following beliefs:
• Selling is manipulative. Many people think that sales, is all about manipulating people into buying something that they don't want or need. This line of thinking infers that sales people are fast talking, 'slicksters' who are simply trying to 'get over' on someone. Who wants that kind of reputation?
• Selling is annoying. Selling involves follow-up. And follow up, involves repeated emails and phone calls, both of which, to some, may be unwelcome. Most people have had unpleasant experiences with persistent salespeople who won't take no for an answer. And who wants to be known as a pest?
• Selling is tiresome. Most tasks on your "to-do" list can be completed with a get-it-done and it's over process. The process is about how much time you're willing to spend. On the contrary, selling, involves a "hurry up and wait" process. Many times if you contact a prospect they will take days or weeks to return your messages, or to make a decision… meaning the sales cycle can drag on for months.
If you hold any of the above beliefs, you will of course, hate selling. Here's what I propose: change your mind-set about selling, next change your emotions about selling. It's possible to flip the switch in your mind and in your heart about the science of sales. Ready set, go!
Here are my 4 easy tips to get a new attitude about sales…if you hate selling.
• Think of selling as helping. Selling is about providing people with products and services that they need and are ready to buy. Once you make a conscious decision that you will never, sell somebody something they don't need, the sales-y, sleaze factor disappears. You are then able to see selling for what it really is: helping somebody else to get what they want or need for a price. If you are providing a solution for a need held by someone else, that's a good thing. There's no manipulation in that!
• Think of selling as building relationships. Make the decision that you will not become a sales pest and the "annoyance factor" is gone. Begin to view the selling process in terms of making new acquaintances and friends. You just added a new buddy to your circle. Doesn't that sound fun?
• Understand that selling is about listening. If you listen more than you speak, you will learn so much more about the customer's needs, wants and beliefs. That way, you will be able to sell them something that fulfills a specific need or want. Who doesn't like to be heard? We all seek to be heard and understood. It's a great feeling, right?
• Understand that selling is about learning. When you decide to learn something valuable in every sales situation, selling becomes more exciting every chance you get. Human behavior is fascinating. The process in which human beings make decisions is a learning experience. If you develop a natural curiosity about people and about learning you will be surprised at what you learn about yourself and your customers.
If you aren't SELLING your business…you are missing out! The art of selling, quite simply, is the heart and soul of any business. Bottom-line: if sales aren't happening, you don't have a business. Finally, if you still hate selling, I recommend that you get rid of those old, negative beliefs and change your attitudes and your mindset. After all, whether you like it or not, selling is necessary to be successful. Learn to love it, and you'll be much more successful and achieve your goals a lot faster.
© 2012 Quality Media Consultant Group, LLC – All Rights Reserved
This article is written by Lori A. Manns. Want to use this article for your website, blog or newsletter? No problem. Here's what you must include: Lori A. Manns, CEO of Quality Media Consultant Group your marketing maven and sales success mentor, and founder of ABC's of Successful Sponsorship Sales System;TM  that shows you how to get more sponsors and sales for your business, guaranteed. To purchase consulting  services on marketing, advertising or sales and, learn how to increase your revenue and grow your business; please visit www.qualitymediaconsultants.com.