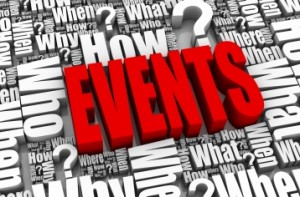 Many business owners utilize events as one of their primary revenue streams to achieve annual budgets. Producing events offer many options for entrepreneurs and small business owners to grow their income, exposure and customer base. Whether you are hosting a one-off seminar, networking event or annual conference, there are many ways you can make money from using events as a marketing strategy. Let's explore the top 5 easiest ways you can make money from events.
Attendee Registrations
Your attendees pay a registration fee or tuition to attend your event. Charging your attendees is easiest,  turn-key way to generate revenue from your events. If you're doing a low-priced event, you will not earn a huge profit from your registration fees. However securing this money up front can assist you in providing the food or cost of materials, or resources at the event. If you're doing a high-priced event, the registration fee can help you achieve a profit. However, many people conduct free or low-cost events to acquire post- event sales and the attendee fee does not cover the cost of the event.
Pre-Sales/Post-Sales (Front-End and Back-End)
Front-end sales include books, merchandise and training programs and materials. Back-end sales include speaking engagements, affiliate sales and new clients. Many event producers and business owners will offer a low-cost or no-cost event to fill a room so they can sell a much higher ticket item later.
Affiliate partners
Affiliate partners offer a unique opportunity to make money from events because they are event ambassadors who promote your event for a fee on the back-end. You can invite people to promote your event and provide them with a special offer code for any sales they bring in. If the affiliate brings new clients to your event you can pay them a small referral fee for sending you the business. Affiliate partners are great because they don't cost anything up front and you only pay them if they help you secure event attendees.
Vendors/Exhibitors
Vendors/exhibitors offer an added bonus to make money from events for two reasons: they pay in advance and they promote your event for free when they are notifying their network about what upcoming events they will be participating in.  Securing vendor and exhibitor dollars in advance will allow you to pay for advertising, marketing,  pre-event costs, venue deposits, etc. Vendors also add value and lend credibility to your event by giving your audience a diversification of businesses to choose from and  patronize.
Sponsors
Sponsors are the best ways to capitalize on making money from events. Sponsors give you money to be associated with the target audience you are providing. Having sponsors are beneficial because not only will they underwrite the cost of your event but they lend credibility to your event. In addition, many times having major sponsors on board will help you to get media exposure. Once you sell a sponsor in one of your events, you must ensure they are satisfied so that you can sell multiple years and easily renew the contract year after year.
Whether you explore one or all five of the above ways to make money at your events, you are guaranteed to make money if you successfully market and promote your event to the right audience with a compelling marketing message.
Now over to you….
Write down a few ways that you have yet to explore making money on events and create a strategy to implement news ways to make money on your events.
© 2014 Quality Media Consultant Group, LLC – All Rights Reserved
This article is written by Lori A. Manns. Want to use this article for your website, blog or newsletter? No problem. Here's what you must include: Lori A. Manns, CEO of Quality Media Consultant Group your marketing and sales success mentor, and founder of Marketing For Trailblazers™  & ABC's of Successful Sponsorship Sales System;™  that shows you how to get more sponsors and sales for your business, guaranteed. To purchase consulting  services on marketing, advertising or sales and, learn how to increase your revenue and grow your business; please visit www.qualitymediaconsultants.com.