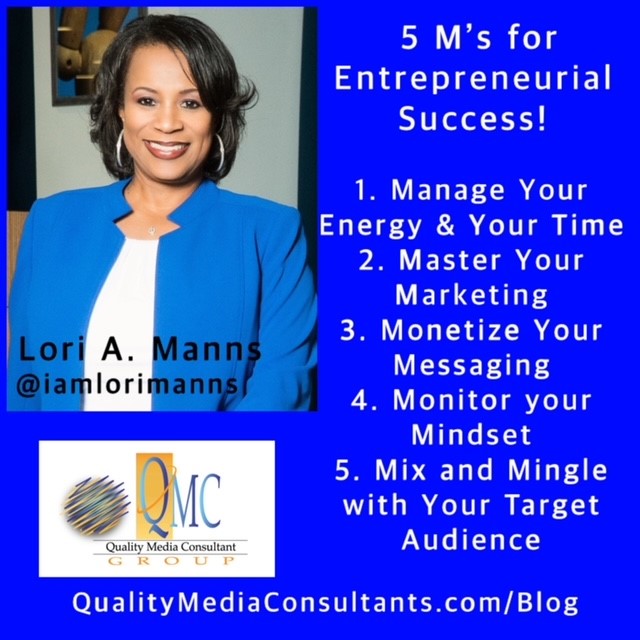 If you asked one hundred different entrepreneurs what it takes to be successful, you would probably get one hundred different answers. Being a successful and profitable entrepreneur takes a lot of work, grit, and perseverance. Running a business successfully is not something that happens overnight for most entrepreneurs. For many, there is an element of failure, risks, and defeat as well wins and victories. The fact is entrepreneurship is different for everybody. However, there are certain things that every entrepreneur should do to assist them in becoming more successful in their businesses. Below, I will cover five 5 m's that I consider to be necessary to ensure success as an entrepreneur.
Succeeding as an entrepreneur requires efficiency with your time, resources, and physical capabilities.
Managing your Energy and your Time – Your energy is your physical capacity to handle demands placed on your body, mind, and spirit. In order to maintain proper energy, you must take care of yourself.  Everyone is familiar with what it feels like to be tired, drained, or exhausted. And if you feel this way, you will not be any good to your business. Therefore, you must manage your energy so you can be effective during your working hours. Managing your energy includes self-care. Make sure you take time to exercise and eat a healthy meal at least two or three times per day.  The other thing that is important to manage is your time. Of course, we all know that we only have 24 hours in a day. Therefore your workday may be anywhere could between  4 to 10 hours a day. For those who only designate around 4 to 6 hours per day for work,  it is imperative to maximize your time. And although having  7 to 10 hours for your workday is longer, you still must maximize your time so that you are effective and productive. The best thing to do is set timers for daily tasks. Additionally, it's always smart to create a schedule and stick to it as best you can.
Succeeding as an entrepreneur requires S.M.A.R.T. Marketing that is Strategic, Measurable, Attainable, Realistic, and Time-bound.
Master Your Marketing – Marketing your business is one of the most important tasks an entrepreneur can do. Marketing is the vehicle that delivers your branding and messaging to the intended target audience. Without a marketing plan and strategy, your business is relatively unknown. Your job as a business owner is to get to know your target audience and create content that speaks to their needs, challenges, and problems. Once you tap into a marketing strategy that reaches your target audience, you will begin to develop leads that turn into prospects that turn into customers. Becoming a master of your marketing involves delivering advertising and marketing messages that address a pain point for the people out there looking for an answer to a problem that you can assist them with.  The effectiveness of your marketing is predicated on your company's reputation in the marketplace as well as your leads and,  business development initiatives.
Succeeding as an entrepreneur requires brand messaging that hits the nail on the head with a solution for your target audience's pain points.
Monetize Your Messaging – The messages that you disseminate as a part of your marketing strategy are vitally important because they should be positioning a purchase. Effective marketing messages should include language that requests the reader, viewer, or listener to take the next step which is commonly referred to as the call-to-action (CTA). When your CTA is effective, it includes a prompt or directive that positions a purchase and results in a sale. If you are not monetizing your messages, chances are, you are not closing many sales by way of your marketing campaigns. The job of your marketing campaigns is either to produce awareness or sales for your company, products, and services.
Succeeding as an entrepreneur requires a positive mindset.
Monitor Your Mindset – Mindset is a very critical factor in the success of any entrepreneur. Achieving success first begins with believing that it is possible. Many entrepreneurs are crippled by the fear of failure, and therefore negative thoughts creep in before they can barely get their businesses up and running. It doesn't help that there are negative statistics that report that most small businesses fail or close within the first five years of existence.  On top of that, our educational system doesn't teach entrepreneurship in high school or at the undergraduate college level. Considering the lack of formal education offered to assist people in starting businesses, it is vitally important to have the sheer will and determination of mind and heart to not only survive as an entrepreneur but to thrive as one. Developing daily, positive mindset rituals will serve any aspiring entrepreneur to believe in themselves and the work they are doing. Confidence is a necessary trait for entrepreneurs to succeed. It starts by believing in your vision and dreams and knowing that there is a place in the world for your business and your offerings.
Succeeding as an entrepreneur requires meaningful connections and interaction with your target audience.
Mix and Mingle With Your Target Audience –  Much of your business success will depend on how well you have gained the loyalty and respect of your target audience. Developing the coveted status of being a preferred brand or company in your industry is not something that comes easily. You must earn the status of being a recognizable and preferred brand in your industry.  The first step is getting your tribe to know, like, and trust you and your business.  Once your target audience knows your company, products, and services and is able to recall who you are and what you do, you have won half the battle. The next step is getting them to like doing business with you so they are willing to trust you with their money. The more that you create experiences to engage and interact with your target audience, the more you will gain their loyalty, respect, and money. That's why it's important to create opportunities to mix and mingle with your customers every chance you get. Whether you host customer appreciation events or online contests, creating memorable opportunities to interact with your tribe, is priceless.
Of course, there are a ton of other ways that entrepreneurs can ensure success in business. However, if any new or existing entrepreneur uses any or all of the aforementioned tips, they will have a great start in achieving a successful business.
Want to use this article for your blog or business website? Here's the author's box that you must include.
© 2022 Quality Media Consultant Group LLC – All Rights Reserved
This article was written by Lori A. Manns. President of Quality Media Consultant Group.  Lori is a multi-award-winning marketing mentor, sales coach, and trailblazing business strategist who works with small business owners and entrepreneurs to help them grow and scale their businesses. She specializes in sales and marketing strategies that result in her clients attracting their target market, gaining brand visibility, and growing revenue. Lori is President of Quality Media Consultant Group, a consultancy firm specializing in media, advertising, marketing, and sales. She is the founder of the Trailblazer Business Academy. where advancing entrepreneurs go to learn growth strategies and how to run a profitable business the soulful way. Lori is also the creator of the Sponsorship Sales Secrets.