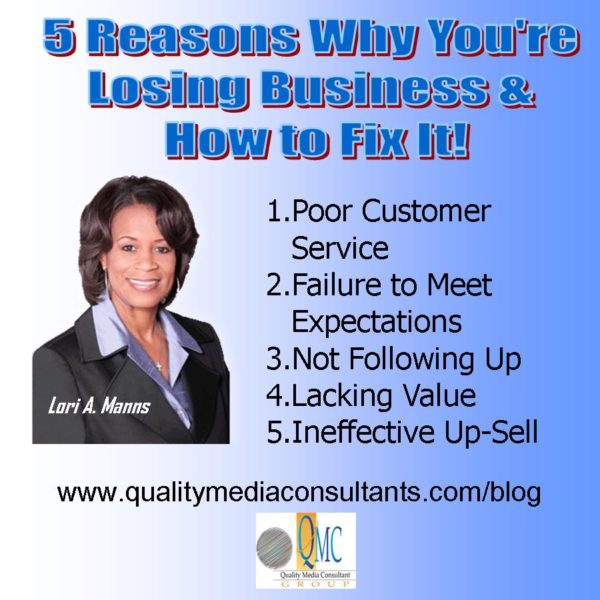 One of the core principles of doing business is the ability to acquire and retain customers. However, if you're in business long enough, you will experience some attrition. The key is to minimize your attrition and build your business in such a way that your customers become life long users of products and services as well as happily recommend them to their friends.
Happy customers who stick around for years and years is utopia. However, utopia is not always the way it happens. When you lose customers or clients its' no fun. The good news is that there are telltale signs that indicate why you may be losing business. Below, I'm sharing 5 reasons why you are losing clients (business) and what you can do to fix it. 
1. Poor customer service
The concept of customer service is about meeting the needs for your clients as well as keeping them satisfied and happy. These days, it is not enough to provide good customer service. Good customer service is expected, it's the bare minimum. It doesn't matter what you are selling, people are looking for a unique and extraordinary experiences. If people don't give you great  feedback something is wrong with your customer service. If you're getting less than 4 star ratings on line, something is wrong with your customer service.
People want to feel as if they are experiencing something great. You have to be willing to go the extra mile. Being able to provide a product or service that people will rave about requires creativity, research and planning. We live in a world of everything digital, buyers want memorable experiences they can document and brag about to their friends, family, colleagues and of course everyone on social media.
If you're an entrepreneur or micro business owner, take a hint from the large companies that offer various customer service assistance options such as:  800 toll-free numbers, an electronic help desk, comment cards, thank you emails, etc. The short term goal is to learn what customers like and don't like.  The long term goal is to simply satisfy your customers by providing them with a superior product or service, for a better price than your competition.
How do you fix poor customer service?
One of the best ways to improve customer service is to study the best in the industry, according to Scott Cook, founder of Intuit. He decided that Toyota was the best in the automobile industry despite the fact that they didn't start out as automobile manufacturers. Cook discovered that Toyota was worthy of modeling because when it came to being the best in the business, they mastered experimentation. Toyota ran single variable experiments on everything to provide their customers with the best driving experience.  
One of the best ways to increase your customer experience is to survey your network of buyers about their perceptions of your business. Simply providing a survey for your customers to document their experience is a great way to enlist your customer base in providing data research for future projects and products. This information will prove beneficial when creating new offerings.
2. Failure to Meet Expectations
As human beings we go into situations with a preconceived idea about what to expect when doing a business exchange. Your clients expect to buy a product or service and have it delivered on time as well as live up to the advertisement or marketing messages used to promote it. If your products or services fail to live up to the hype a.k.a. your marketing message, your clients will see right through it. They will be able to see that what you promised is not what you delivered.  There is nothing worse than over promising and under delivering in business. Once you have failed to meet expectations of your customers, they are less likely to buy from you ever again.
How do you get better at meeting expectations?
A great way to meet the expectations for your customers is to find out their biggest problems and create something to fix them. That's what business enterprise is all about.
3. Not Following Up
One of the easiest ways to fall short when it comes to doing business is simply not following up. When you practice following up with people it becomes a habit. However, failure to follow up can also become a habit, a bad habit.
Your clients want and expect for you to follow up with them. When you fail to follow up, it shows your clients that you are not buttoned up. It relays the message to them, that perhaps their business is not valued.  Your clients are people who want to feel valued and appreciated. Although you may be providing your customers a great experience, there's no replacement for following up after they have made a purchase to thank them for their business.
Following up can also be prudent when it comes to handling problems or issues that arise from various things. If a customer has a complaint or grievance, and you do not follow up quickly, you may lose the business. The first thing you must do is listen to their concerns, apologize for the mishap and next, offer a solution.
How do you get better at follow up?
You start getting better at following up by creating a rinse and repeat follow up system. Create a process for everything you need to follow up on…from using forms, scripts to templates and more.
4. Lacking value
Most people don't mind buying things they perceive to be useful and valuable. However, when we buy something, if that item doesn't meet our needs, fix our problem or do what it was supposed to do, we are left feeling as though we got short-changed or downright ripped off.
If you are selling a service, your clients should always feel as if they are getting the best service possible and the biggest bang for their buck. If you are selling a product, your clients should always feel as if they are buying the best product or service on the market. Your clients should never feel cheated as if they have paid too much for whatever you're selling. That said, you must make sure your products deliver.  In addition, you must be able to communicate the value you offer your customers in a compelling manner. Learning how to communicate value in a succinct manner is of utmost importance.
When we buy something, we want to believe that we are getting a good deal. The question is, how do you pack in enough value so that your clients are always sufficiently getting their money's worth? Of course, the opposite end of the spectrum is underpricing your products and services and cheating yourself. That's not a good predicament either.
Here's the best rule of thumb I can offer when it comes to ensuring value for you the business owner as well as the consumer. My formula is simple: when building a win/win for value in my products and services and receiving proper compensation, I use a 3:1 ratio of return. This simply means I will typically price my products based on being able to help my clients achieve a return on their investment of 300%. For example: if I charge $500 for a strategy session, my promise to my client is that if they implements one strategy that I teach them, they will more than likely earn $1500 in return. The simple math is about providing 3 times the value for the investment. This formula works because most people understand simple ratios and love the return on investment prediction.
How do you get better at creating value?
Begin by evaluating your products and services and assigning a dollar figure to what it would be worth if someone were to buy it.  Once you have assessed value, you must determine the what profit margin will be for selling your products or services.
5. Ineffective Up-Sell
Within the sales funnel process, just as there is a natural sequence to get people to initially buy from you, there is a natural sequence to get people to continue to buy from you. It is important to anticipate the needs of your clients so they will continue to do business with you. If you are not anticipating your client's next set of challenges or problems as well as creating products or services to meet those needs, you are doing a disservice to them and to you.
Creating added value services, simply means that you are creating opportunity to add value to your customer's experience and giving them reasons to continue spending money with you. 
How do you improve your up-sell offer?
First things first, you must make sure that your clients are 110% satisfied with whatever they have purchased from you. During the purchase of the first product or service, you must begin seeding a future sell. After you have gotten a satisfactory review, and positive feedback from your client, the next step is to build on that perspective. Now that the client has had a great experience with you, they will feel more comfortable to buy again.
In summary, if you're losing business, take inventory of the areas that I've shared above. I can assure you if you address any of the above areas, you will stop losing business meaning you will stop losing clients and start making more money.
Do you have comments? Let's talk it out. I'd love to hear your two cents. Leave me a question or comment below.
© 2018 Quality Media Consultant Group LLC – All Rights Reserved
This article was written by Lori A. Manns.  Want to use this article on your blog or website? Here's the author credit you must include.
Lori A. Manns is an award-winning marketing expert, sales coach and trailblazing business strategist who works with small business owners to help them elevate their brand, get more dream clients and grow revenue. Lori is President of Quality Media Consultant Group and founder of the Trailblazer Business Mastermind™ and Trailblazer Business Academy and where advancing entrepreneurs go to learn growth strategies and how to run a profitable business the soulful way. Lori is the creator of the Sponsorship Sales Secrets System™, which shows clients how to get more sponsors and sales for their business, guaranteed. To learn more about the work Lori does to help business owners and entrepreneurs all across the U.S. to accelerate their revenue and succeed in business, visit 
www.qualitymediaconsultants.com