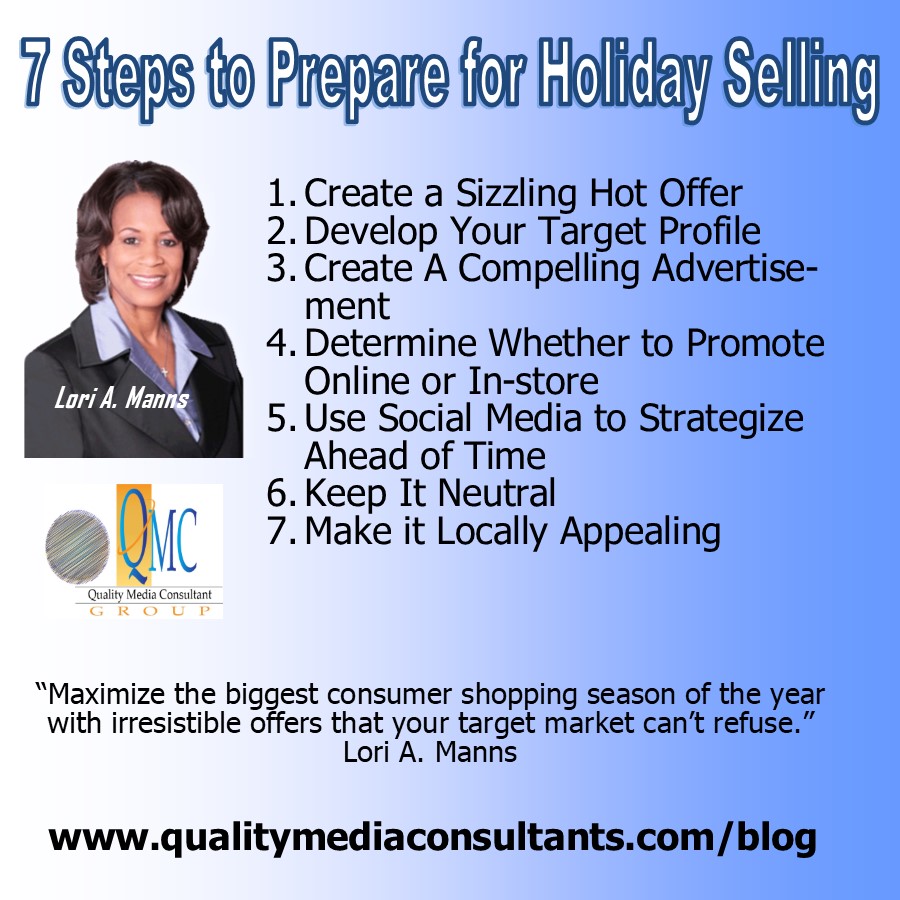 The holiday season between Thanksgiving and New Year's Day is one of the biggest shopping and spending periods of the year. Black Friday is one of the most highly anticipated shopping days in retail history. Christmas is the biggest holiday as far as spending among all of the holiday in the United States for the entire year. Many consumers spend months planning what to buy and where to shop both online and offline before the holiday season even arrives.
As a business owner, you must spend time determining what to sell and how to sell it in order to maximize the holiday season and bring in profits. If the concept of offering a holiday sale is overwhelming to you, but you still want to make money, listed below are some holiday strategies and hacks to help you plan your holiday strategy and grow revenue.
CREATE A SIZZLING HOT OFFER
Decide what you are going to create a special sale around. The best way to determine what to offer around the holidays is to pay attention to the trends. The trends will help you to create a sizzling hot offer that will have your customers waiting in line, either virtually or physically. Learning what your clients and customers are interested in, will serve you well when it comes to creating special offers and deals for the holidays.
Ask yourself the following questions. What are the hottest selling items in my business right now? What are the slower selling items that can be repurposed or prepackaged to get rid of? What can be marked down to create a flash sale or marked up to create demand?
The most important thing when considering your offer, is to find out what people want and then develop a special sale around it. The worst thing you can do is to go through the trouble of creating special sales that don't sell and fall flat.
2. DEVELOP YOUR TARGET PROFILE
Determining who your offer is for, is the most important part of the entire sales process. The question you must ask yourself (as the business owner) is, who is the product or service for? Secondly you need to be clear about why this prospect would want to buy whatever you have to sell? What is benefit for the consumer? Once you have determined who the target customers are, you must create a message that will resonate with them. It's important that you clearly state, what's in it for the consumer.
The next thing is that you must identify where your target audience congregates. How can you reach your target customers on a large scale?
The key is to create an offer that meets a need, solves a problem or addresses an area of concern or desire for a specific group of people. These are the people who are going to be hungry to buy whatever you are selling. Make sure you create something that you know people are going to want. It's all about supply and demand. If people are asking for it, give them what they want. Not only that, find a way to target people in large numbers.
3. CREATE A COMPELLING ADVERTISEMENT
Once you have created your offer and developed your target list, you must create your advertisement.  Your ad has to be catchy and appealing. Your headline should grab attention. Your photographs must be captivating and memorable. Your ad copy must attract the right buyer. The call to action has to make the right people want to buy. Bottom line, your ad has to be effective. Otherwise, your special offer or your sale won't work. The success of your holiday sale is riding on how well your advertisement gets the message across.
One hack you must keep in mind is that you must make your advertisement mobile friendly. According to Think With Google, 64% of online purchases made in the 2018 holiday shopping season were made on smartphones. 
4. DETERMINE WHETHER TO PROMOTE ONLINE OR IN-STORE (IF APPLIES)
Selling your products and services online is not something you can or should overlook if you're in business today. According to Statista, in 2017, the holiday season retail e-commerce revenues amounted to 106.14 billion U.S. dollars. E-commerce holiday season sales in 2018 are projected to reach 123.73 billion U.S. dollars.
Selling over the Internet can be tricky as small business, entrepreneur, freelancer or retailer. If you don't have a storefront or a physical product, you must master the science of electronic commerce aka ecommerce. Your services such as online courses and other non-physical items need sales pages and snazzy sales funnels to make them effective. 
If you are selling a product or service online, the first step is having a shopping cart experience that is easy to navigate and understand. Offering both an online platform and in-store shopping experience will give you the advantage. When it comes to your online platform, you must determine how you stack up to the competition. Does your ecommerce site load quickly or is it too slow? Are customers able to apply coupons online? is is easy to choose shipping and delivery methods? These are just a few of the questions you must consider.
For the consumer, it helps if the online experience is flawless. The worst thing is to run out of stock or have delayed delivery times when you're having a holiday sale. Your customers will definitely complain and may or may not buy again. People don't like to wait long periods of time when they are ordering items online. Sometimes, back orders or long wait periods actually prevent customers from making a purchase. Make sure your web master or technical team has actually tested and checked your ecommerce site to make sure everything is functioning properly. Make sure your operations team has purchased enough product for you to host a sale.
5. USE SOCIAL MEDIA TO STRATEGIZE AHEAD OF TIME
Social media is one of the least expensive ways to get the word out about your holiday sales and special offers. You can utilize social media by posting on your business page that you have holiday sales coming up. Don't wait until the day before Thanksgiving to let your followers know that you have Black Friday deals and specials, you should be teasing your offers at least one or two weeks ahead of time.
Many retail stores start the day after Halloween, prepping their audience that Black Friday deals or holiday deals are coming up. The main thing is to get your target audience in the mindset of spending. With so many businesses and companies vying for customers, it is important to make sure you are connecting with your audience on social media and engaging with them as much as possible. You can even make it fun by offering a prize for the person who likes or share your posts the most for a particular timeframe. The key is to use social media to create buzz and free publicity.
6. KEEP IT NEUTRAL
Whether you celebrate Thanksgiving, Christmas, Hanukah, Kwanzaa, or don't celebrate the holidays at all, remember that your personal celebration style may not suit that of your customers. That said, keep your messaging and your advertisements neutral. Unless you are specially selling something that is for the Jewish community, there's no reason to expressly state that you are having a Hanukah sale. You can simply say you're having a holiday sale. From Thanksgiving to New Year's day, there will be tons of advertising that simply announce holiday deals or special sales are going on. There's no reason for you to exclude anyone from your special offers if you don't have to.
7. MAKE IT LOCALLY APPEALING
Although you may want people from all over the country or even all over the world to buy your products and services, the truth is, chances are they won't. Your products and services are not for everybody. Everyone is not your target customer.
Getting sales online may be a great money maker for your business nationally, but don't forget about people right in your neighborhood who may want to buy from you. Obtaining local sales from clientele, right in your own back yard is a great way to become a staple in your community. Remember when you shop local, you are building the business enterprise in your own community. There is power in having thriving small businesses in your own backyard.
Make sure you are targeting customers who live and work in a 10 mile radius of your business. And if you're an online entrepreneur, you can still certainly target your city or county through geo-targeting your online advertisements. Perhaps you can offer a special coupon code for people in your community, city or town. That way you are able to measure how much of a local presence you have. It's always a great idea to maximize home-base first.
As you can see, there are many strategies and hacks you can focus on to have a successful holiday sales event. The main thing to remember is to have fun and make the process enjoyable for your staff and most importantly your customers and clients as well. After all, the holiday season is a festive and joyful time of year. Make it an exciting time for your business.
Do you have other strategies that are not listed above that you use to prepare for the holidays? Share your comments below. We'd love to hear from you.
Want to use this article for your blog or business website? Here's the author's box that you must include.
© 2019 All Rights Reserved Quality Media Consultant Group
This article was written by Lori A. Manns.
Author, Lori A. Manns is a multi award-winning marketing mentor, sales coach and trailblazing business strategist who works with small business owners and entrepreneurs to help them grow and scale their businesses. She specializes in sales and marketing strategies that result in her clients attracting their target market, gaining brand visibility and growing revenue. Lori is President of Quality Media Consultant Group, a consultancy firm specializing in media, advertising, marketing and sales. She is the founder of the Trailblazer Business Academy. where advancing entrepreneurs go to learn growth strategies and how to run a profitable business the soulful way. Lori is also the creator of the Sponsorship Sales Secrets System;™ which shows business owners how to get more corporate sponsors and sales for their business, guaranteed. To learn more about the work Lori does to help business owners and entrepreneurs all across the U.S. to accelerate their revenue and succeed in business, visit www.qualitymediaconsultants.com