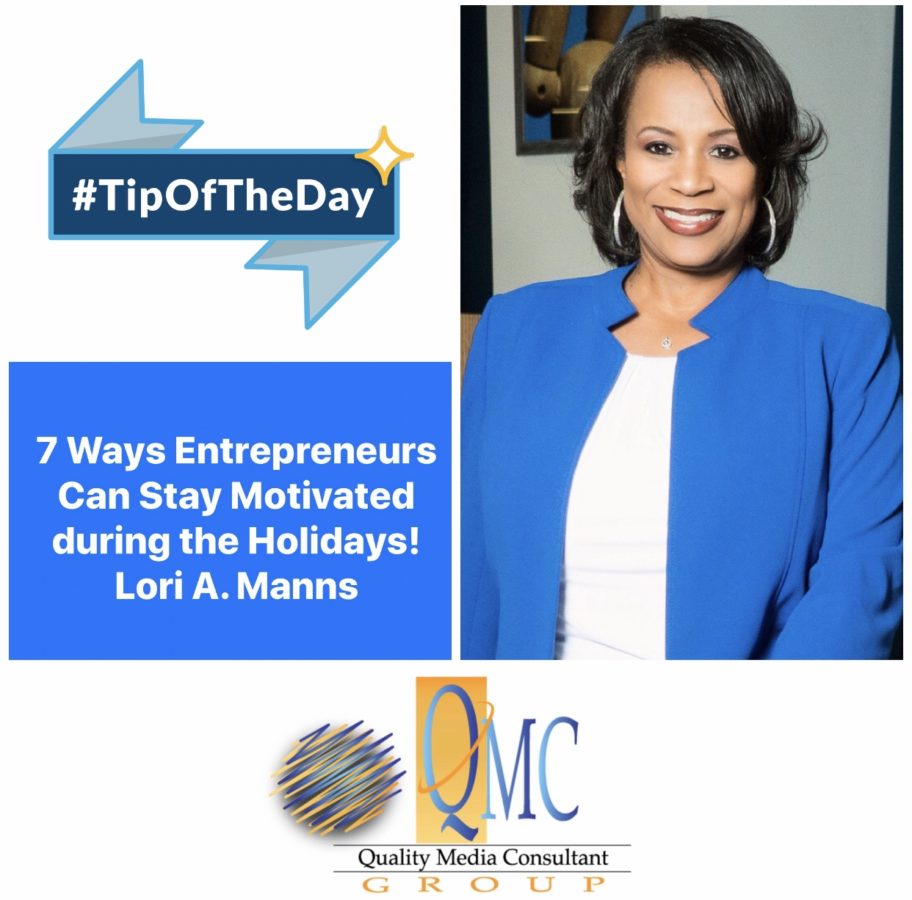 The holiday season from Thanksgiving to New Years Day represent a time period when many entrepreneurs take vacation or a break from their daily routine. The week between Christmas and New Years Day is definitely a time period when many people shut the doors of their business and take a vacation. However, there are some entrepreneurs who either prefer to work during the holidays or get stuck working during the holidays. They may wind up working because they think they will be more productive during this timeframe or may simply want to fill in during staff shortage.
If you are an entrepreneur who finds yourself working during the holidays, staying motivated and productive during the holidays, may be somewhat of a challenge. It's sometimes difficult to focus on work when your friends and colleagues are on vacation, shopping or spending time with family and friends….while you're at work.
Here are a few tips about how you can stay motivated as well as productive during the holiday season.
Create a Task list – It helps to create a to-do list of all the activities that are pressing and must get done by a certain time period. Once you determine what your priorities are, you can use the down time during the holidays to stay on track and become more productive. While other people are taking vacation or time off, you can use the holiday season to catch up on items on your to-do list that you have been putting off. The accomplishment of completing tasks will give you a jump start to the new year and help you to become more intentional and productive for coming weeks.
Combine Must Do's and Easy Do's – We all have a list of tasks and responsibilities that we absolutely positively must do. Sometimes, we put these items off because they are complicated or difficult to handle. However, there are easy tasks that help us to feel more accomplished. For that reason, we should have lists that are a combination of hard tasks and easy tasks; because it psychologically contributes to our sense of productiveness. The holiday season is a great time to tackle the "must do" activities as well as the "easy do" activities on our lists because it helps us to feel more productive once those items are crossed off and completed. Perhaps the best advice when it comes to your to do list or task list is to keep it simple and manageable. Check out these tips from Greatist.
Set Time limits – Once you have completed your task list, gauge how much time you need for each task. Assigning time limits and the approximate length of time it takes to complete certain tasks will help you to maximize your time. We all know that time is money and if you can begin to forecast the amount of time it takes to complete items on your list, you will eventually become more productive and motivated because you will be getting more done in a quicker amount of time.
Pitch A Story Idea – There is nothing better than free press. During the holidays, many reporters, bloggers and podcast hosts are searching for people to interview as well as unique stories to tell. If you keep your media kit up to date, you can send a quick email to a reporter with a story idea that just may land you some free publicity. Do you have a unique angle or idea for a topic of interest? Are there any topical news stories that are hot that you can offer a unique approach or spin to your advantage? Think of ways you can leverage the media to your advantage. Positive press can give you and your business a big boost for months at a time. What better motivation to keep going than having positive media attention that you don't have to pay for? The more people that learn about your business, the better.
Invest in Training – One of the best ways to stay motivated is to invest in additional training, education and/or knowledge. You are investing in yourself and you are always your best investment. Perhaps you need to take an on-line course or check out a webinar on a particular topic. In whatever ways you deem necessary, it's always a great idea to expand your knowledge on any topics that can help further your knowledge and expertise in all thing pertaining to business. Take the time during the holidays to catch up on reading, studying or training in any areas that will benefit you long term.
Start a New Project or Revamp and Old One. – A great way to stay motivated is to work on something new or revive something old. Take a moment to review your products and services and figure out what you might create or renew or rework to make it better. Ask yourself a few questions such as: Is my company meeting all of the needs of our target market? In what ways can we improve our service offerings to meet the demands of our target market? Once you are able to answer those questions, you will be on your way to creating something new that your existing clients and target audience may want or need. When it comes to revamping something new, think of any product or service offering that may need tweaking in order to sell more and be more of a product in demand.
Review Your Online Profiles – In this day and age, your online brand is of utmost importance. Take a moment to review your social media pages and profiles so they are up to date. Remember, when people go to search for you online, you want to control most of what they see. Taking the initiative when it comes to your online brand can help you feel good about your brand reputation and in turn motivate you to keep a great brand presence.
As you can see, there are many ways that you can stay or remain motivated during the holidays.
What's on your list? How do you stay motivated and productive during the holiday season. Share your comments below.
Want to use this article for your blog or business website? Here's the author's box that you must include.
© 2019 All Rights Reserved Quality Media Consultant Group
This article was written by Lori A. Manns.
Author, Lori A. Manns is a multi award-winning marketing mentor, sales coach and trailblazing business strategist who works with small business owners and entrepreneurs to help them grow and scale their businesses. She specializes in sales and marketing strategies that result in her clients attracting their target market, gaining brand visibility and growing revenue. Lori is President of Quality Media Consultant Group, a consultancy firm specializing in media, advertising, marketing and sales. She is the founder of the Trailblazer Business Academy. where advancing entrepreneurs go to learn growth strategies and how to run a profitable business the soulful way. Lori is also the creator of the Sponsorship Sales Secrets System;™ which shows business owners how to get more corporate sponsors and sales for their business, guaranteed. To learn more about the work Lori does to help business owners and entrepreneurs all across the U.S. to accelerate their revenue and succeed in business, visit www.qualitymediaconsultants.com