Save the Date:
Sponsorship Sales Secrets 2022 is happening Fri/Sat, Sept 23 & 24 @10 A.M. to 4 P.M. (EST). Tickets go on sale June 1st. Learn how to get sponsors and grow your business. Get sponsorship for your biz, brand, book tour, events, nonprofits and more.

Get Replay Access – ORDER NOW
Trailblazer Business Summit 2022
SPEAKERS AND TOPICS
The Trailblazer Business Summit 2022 took place on April 23, 2022
📌 The theme was " Connect, Innovate & Dominate!"
📌 Power Panel Topic: Six-Figure Social Media Success Strategies featuring:
*Jen Buck, Jen Buck Speaks, Fitzgerald Hardnett, Stop Small Business Failure and Ida M.@ToEveryMom
Hear from dynamic entrepreneurs on various topics.
📌 Featured speakers included:
Julie Hruska – High-level Performance & Productivity for Entrepreneurs
Beth Copeland – Keys to Dominate in Entrepreneurship
Linda Griffin – Bankable Book Publishing Strategies
Marlon K. Scott – Smart Budgeting and Investing for Entrepreneurs
Yinka Odeniran – Blockchain and Business: What You Need to Know about Bitcoin and Cryptocurrency
📌 Featured presentation:
Magnetic Marketing: Strategies to Soar Online – Lori A. Manns
📌 Featured sponsor:
Nikki McCauley, State Farm Insurance
📌 Emcee: Amanda Cooper, Cola Daily

Business Resource – Special Offer
The PROFITABLE BUSINESS TOOLKIT – Your one-stop shop for building a bankable, brilliant brand and profitable business. Get 8 resources for one value-packed, low price. ONLY $47.00. 

Included in this toolkit are 8 powerful resources you will need to grow your business. (1) Ultimate Goal Planning Toolkit (2) The Brilliant Branding Ebook (3) Digital Marketing for Todays Entrepreneurs Ebook (4) The Client Magnet Method to Land 5 New Clients in 60 Days or Less Ebook (5) How to Reduce Overwhelm and Become Productive Ebook (6) The Biggest Marketing Mistakes Entrepreneurs Make Ebook (7) The Social Media Content Calendar and Workbook (8) How to Get Sponsors to Fund Your Projects & Events Ebook.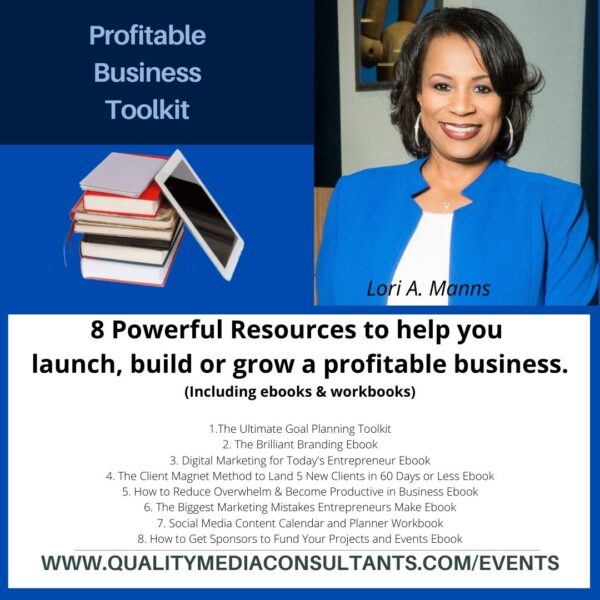 Don't delay, this is limited time offer. This toolkit is valued at $249. Order your toolkit today for only $47. Click here.
---
Who are QMC Group events for?
Purpose and passion-driven, entrepreneurs who know they are called for greatness to change the world using their gifts, talents, and skills.
Uncompromising, passionate, and dedicated entrepreneurs who are committed to achieving their goals, GROW THEIR BUSINESSES, and level up!
Leaders, Consultants, coaches, authors, trainers, speakers, service providers, inventors, service-based entrepreneurs, product-based entrepreneurs, career professionals with a side hustle,  and ANY work from home, professionals ready and willing to take massive action to win BIG!
What type of entrepreneurs, professionals, and leaders are best suited to attend our events?
The common denominator shared by all of the entrepreneurs, professionals, leaders and small business owners who attend QMC Group events (hosted by Lori A. Manns, is that they are success-oriented, growth mindset people who want to make a difference in their chosen industry or niche.  These business owners and professionals are talented trailblazers and use their gifts, skills, and talents to make an impact in the world. All of the traits and characteristics mentioned, also apply the entrepreneurs who attend our virtual events as well.
The bottom line is simply, if you have a product and or service to market and  sell, you will benefit from the training offered by Quality Media Consultant Group and our Chief Strategy Officer, Lori A. Manns.
Why should you attend QMC Group's events?
In a word, transformation. Attending any one of our events hosted by Lori A. Manns, will help to transform your life and business for the better. You will leave the event inspired, educated, empowered,  informed  and equipped to go to the next level, whatever that means for you. Most importantly, some area of your life or business will be transformed.
What do others say?
VIEW LIVE TESTIMONIALS by clicking below.
See what Lori's clients have to say about attending her events and working with her via live video. CLICK HERE.